Kontaktdaten / contact details 
Pressebüro Anneli Dierks has moved to one of the most exciting cities in Europe!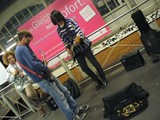 train station Kottbusser Tor, summer 2010
Postfach 17 11 46 
10203 Berlin/Germany
Email: anneli@annelidierks.de
Tel/phone: 0049 (0) 1525 732 14 40 
you will also find me on facebook and linked in ("Anneli Dierks") and twitter "Ahnneli"
I am still working on my google+ account, social media can be very time consuming....

Bitte denken Sie daran, die 0 nach der Ländervorwahl wegzulassen, wenn Sie aus dem Ausland anrufen. Please note to leave out the 0 after the country code when calling from abroad.
Copyright © 2008 Anneli Dierks - Freelance writer - food, wine and crime | All Rights Reserved